So it seems almost obligatory to do a post-race report, but I will try to avoid the blow by blow mind-numbing details to hopefully keep this slightly more captivating for you. (And by "you", I mean my mom and maybe one of my sisters since they're probably the only people who actually read this blog).
We left for Sunday's race on the Wednesday before the race ready to live the van life for the next 6 weeks. #vanlife We had plenty of time to get to CDA, but after driving about half way on Wednesday we woke up Thursday morning to a van that wouldn't start. Arghh! The battery had pretty much burned up (which would explain the rotten egg smell we were smelling when we pulled in the previous night and could not figure out where it was coming from. DUH!!). After spending hours at a truck stop dealing with roadside assistance we were finally able to find a tow truck company with a flat bed to tow us (backwards) to a dealer. We then spent hours at the dealer who told us there was not a single replacement battery in the entire U.S. for a Sprinter van and only 40 in Germany AND that it would take 3 days to get it. Seriously?? After a very minor pity party realizing I was going to miss my race I reminded myself that this was yet again a #firstworldproblem and missing my race would not be end of the world.
Fortunately, we were able to find a battery at the auto parts store down the street and after being set back by several hours we were back on the road. It took us an extra day to get there, but it worked out fine as we were still there in plenty of time.
We enjoyed our time in CDA leading up to the race and since we can sleep basically anywhere in our van we were able to pretty much wake up race morning right in town and be at transition within minutes.
Onto the race...
Getting the wetsuit on & getting the shoulders stretched and primed for swimming.
Swim- 30:25 (~1:27/100yd pace)
I was hoping this race to make it under 30 minutes, but this is still an improvement over last year (and most of my races from the last two years) so I will take it. I know I could have done better because every time I would look up to spot I noticed I had drifted pretty far to the right of the buoys and I had to keep correcting myself. I think I tend to subconsciously do this to avoid the crowds on the swims, but that also means I end up missing a lot of the draft and am probably swimming a little extra.
T1- 3:11 or should I just say SLOW!! Arghh! Must work on transitions...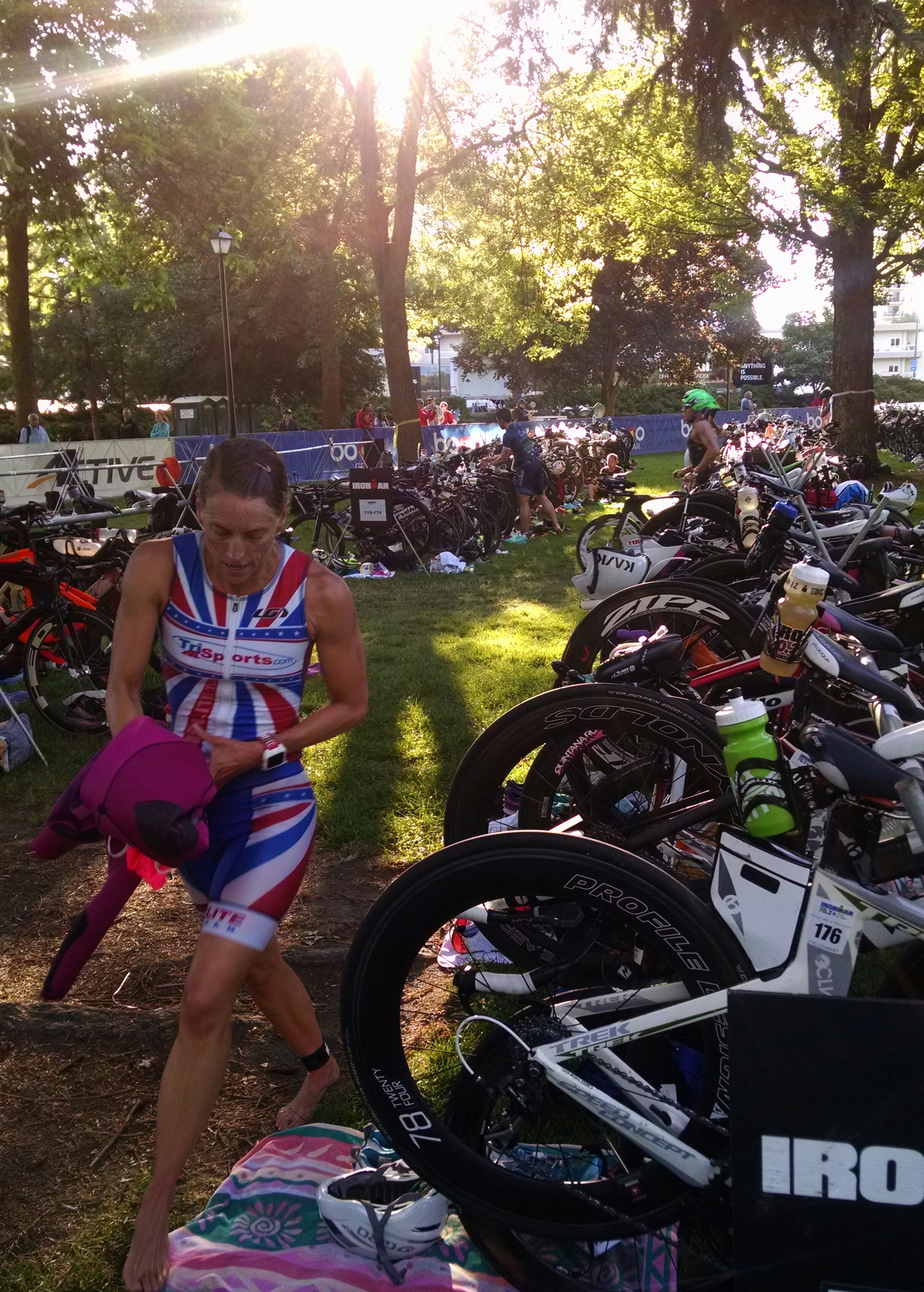 When I first started racing my transitions were always fast so I never really spent much time practicing them. But now I think I am focusing a little too much on trying to keep myself relaxed and the time is definitely adding up. I feel like I am moving quickly, but clearly I am "prancercizing" my way through transitions.
For those of you who have not had the pleasure of being introduced to "prancercise" please let me formally introduce you. I have placed the full video below for your viewing pleasure. You're welcome!!
Bike- 2:36:14 (21.51 mph)
After my prancercizing session in T1 it was onto the bike. As usual, it was a constant battle with the age-group men who can't seem to handle a small girl passing them on the bike, but equally cannot handle the watts they need to sustain to stay in front of this small girl. It was the usual suspect... twice my size and with a full disc rear wheel and the back and forth games began. I decided this race not to let them affect me and I basically rode as hard as I could. Fortunately the course at Coeur D'Alene is a hilly one so I pretty much dropped all their asses once the hills began. Sorry, no more drafting boys.
I rode almost 6 minutes faster than last year (off of very little intensity training so far this year) so I was pretty happy with that. I was also pretty happy with the fact that I did not fall off my bike this year at the dismount line in front of EVERYONE. Score!!
T2- 2:32. Okay, not really. More prancercizing in T2. Only this time with my legs being fried from the bike it looked a little more like bambi on ice.
Run- 1:42:46 (7:50 min/mi pace)- Ouch!! The run was all about hanging on for dear life.
I rode slightly more aggressively than I probably should have and my quads were screaming at me. They were spasming, cramping, locking up and basically trying to tell me that running was a really bad idea. I stopped at the beginning of the run to stretch but that was a big mistake. Stopping only made it worse so I knew I just needed to keep moving in a forward direction. It was just a game of ticking off each mile. I did everything in my power to NOT count miles or to think about how many miles were left. That is always a BIG mistake. If there is one thing that I have learned, it is to stay present in the moment and not to get too far ahead of yourself. The mind is a powerful thing and allowing it to go to the "dark side" is never a good thing.
My sluggish run was a combination of biking a little too hard and just not having my run speed anywhere near where it used to be or needs to be, but I knew that going into the race. As I said in my last blog I was still having some residual issues with my calves from last year and was really having to hold myself back in training on both the bike and the run. BUT, I think I am FINALLY over that hurdle so I'm happy to be in a place now where I can hopefully keep making gains.
Total race time- 4:55:08
This was a 5 min improvement over last year. I was 2nd in my age group and 9th amateur overall. Last year at 5 minutes slower I was 2nd in my age group and 6th overall. Those bitches just keep getting faster which means I need to keep getting faster, but I'm okay with that. I know I have yet to find the best within myself and am not sure I will be ready to throw in the towel until I do.
The best thing about this race is the venue. Coeur D'Alene is a beautiful little city. The lake is beautiful and probably one of the nicer lakes I have swam in for races. (I've seen some pretty nasty swim venues in my career of racing). The people are friendly and the town seems genuinely excited to have you there. The bike course is hilly and tough and they close off one entire side of the highway which makes it so much safer and takes away a lot of the anxiety you might feel on an open course. The run takes you through the beautiful park, into the beautiful neighborhoods and out onto the beautiful lakefront and then finishes right in the heart of downtown on Sherman Ave. Well done Coeur D'Alene!!
After the race I did not stop moving all day. I was so sore and still cramping pretty badly that it took a while until I could relax. My obvious first move was to go straight to the ice cream parlor in downtown where I treated myself to some delish huckleberry ice cream.
And because it was a rather hot day I then went down to the beautiful park to play with the kids in the fountains...okay I wasn't really playing I was just in desperate need of a shower. Did I mention we stayed in our van the entire time we were there? The van does not have any bathroom or running water so you get pretty creative with how to shower. Don't worry, the fountains were not my only shower that day. I took a "real" shower back in the lake a little later.
We are still living the van life for now and have stayed up in the Pacific Northwest visiting North Cascades National Park, Seattle and the Olympic Peninsula. I've had the chance to visit a lot of new places and train in some beautiful locations. In another week we will start heading towards Calgary for my next 70.3 on July 23rd. It will be my first visit there as well so I'm pumped.
That's all for now. I will leave you with this poem I found in the park...